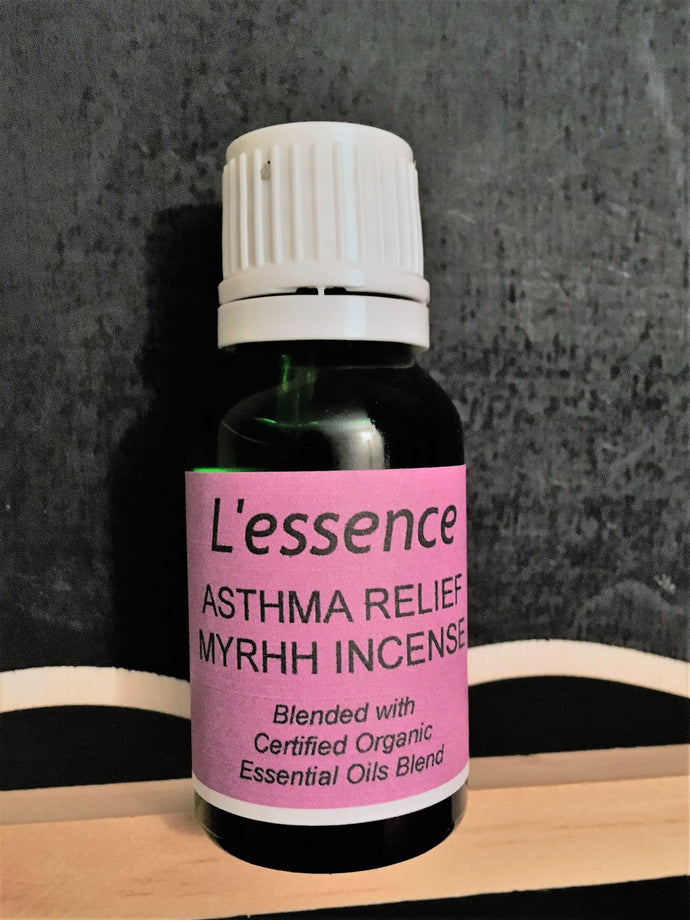 ORIGINAL MYRRH INCENSE - MANAGE ASTHMA
Regular price $20.00 Sale
Asthma makes breathing difficult, which can lead to symptoms such as coughing, wheezing, shortness of breath, and chest tightness. This blends helps you to breathe better and helps you to manage your symptoms.
Essential Oil Ingredients: Myrhh (Commiphora myrrha) Eucalyptus (Eucalyptus globulus), Roman Chamomile (Chamaemelum nobile), Frankincense (Boswellia serrata), Lavender (Lavendula offinalis), Peppermint (Mentha piperita), Thyme (Thymus), Clove (Syzygium aromaticum) and Jojoba Oil (Simmondsia chinensis).
For external use only.
Usage: Take a few drops and rub it on chest and back. Add few drops for steam inhalation. 
Storage: Keep it in cool, dark place.
Disclaimer: The information provided here is not intended as diagnosis, treatment, cure or prescription of any kind. The decision to use, or not to use, any information is the sole responsibility of you, the individual. We recommend that you consult your primary health care provider before using alternative healing.
Available in 15 ml bottles