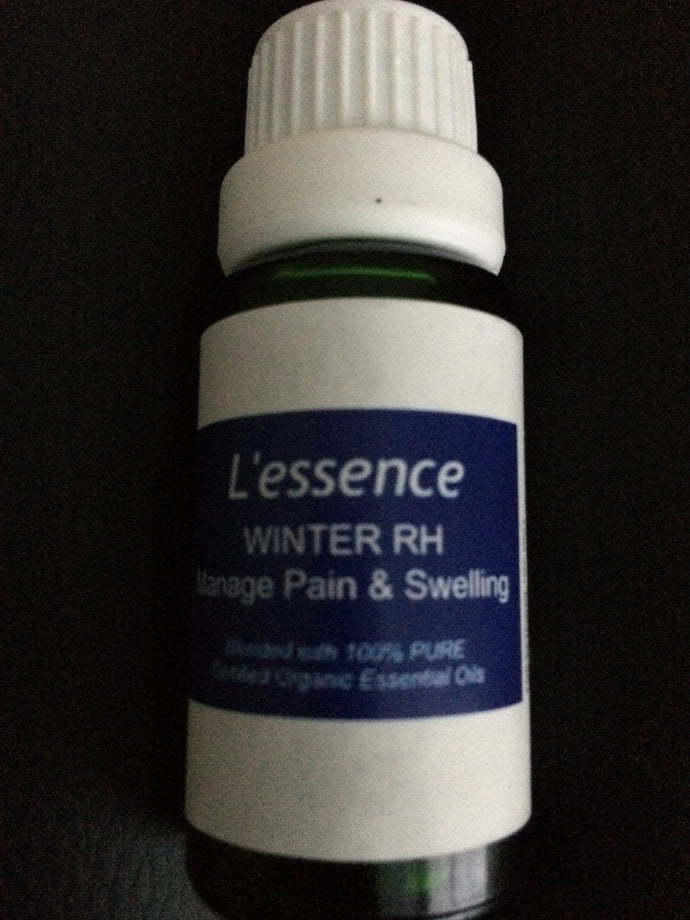 ORIGINAL WINTER RH - MANAGE ARTHRITIS
Regular price $25.00 Sale
Rheumatoid arthritis patients use a variety of treatment options to reduce inflammation and alleviate pain and stiffness. In addition to other treatments we recommend Winter RH for pain relief. This is a natural and holistic strategy that can help your condition in conjunction with other treatment options.
Certified Organic Essential Oil Ingredients: Myrhh (Commiphora myrrha), Frankincense (Boswellia), Eucalyptus (Eucalyptus globulus), Lavender (Lavendula officinalis), Sweet Orange, (Citrus Sinensis), Peppermint (Mentha Piperita), Turmeric ( Curcuma longa) Ginger (Zingiber officinale), and Sesame oil
For external use only.
Usage: Take a few drops and rub it topically on joints. Can be used for foot massage. Can be added to hot and cold compress. 
Storage: Keep it in cool, dark place.
Disclaimer: The information provided here is not intended as diagnosis, treatment, cure or prescription of any kind. The decision to use, or not to use, any information is the sole responsibility of you, the individual. We recommend that you consult your primary health care provider before using alternative healing
Available in 15 ml bottles